Solixi Oy
Solixi is a Finnish Cleantech company that provides patented Intelligent Energy solutions including solar concentrators and trackers to large heat storage systems, all of which are controlled with intelligent AI-based technology.
Solixi Oy owns international patents, patent applications and a registered trademark. Solixi products form Solixi energy system, which operation is based on Solixi IoT AI controller and its unique software, hardware and cloud service owned by Solixi.
Solixi has a large network and eco-system, which are the leading companies of the industry.
Therefore the number of Solixi's own employees is low.


Jyri Jaakkola
Founder, Inventor, CEO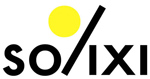 IPR, patents, licensing
Solixi is part of license holders business. The acquisition, manufacturing and electronics of Solixi parts are licensed through contracts to suppliers (Eco-system). Sales, marketing, installation, maintenance and Solixi Care service are licensed and funding arranged worldwide by The Bassiouni Group.
Team
Tens of people have participated to the development and productization of Solixi since the year 2007. When the projects have progressed the team and demanded know how has varied.