Installation news from
As Oy Haukirättäri
Rättärintie 18-22
46910 Anjala Finland.
Latest news on the top, please scroll down to start.
1. First column; solar concentrator C46
2. Second column; water boiler and controller
3. Third column; General info and pics
Solixi C43 Solar Concentrator illustration and installation plan 2019.

Sunny and relatively flat roof, sun shine from early morning till late afternoon all year round.
Solixi C46 solar concentrator will be installed here in late summer 2018, after the testings in Vantaa and if it is possible to begin the production of C4 in spring.
PV Solixi is also in plans.

June 2020:
Solixi controller in operation in a real environment. System management is online and automated. New temperature sensors and water pumps will be added as needed and when new equipment is installed.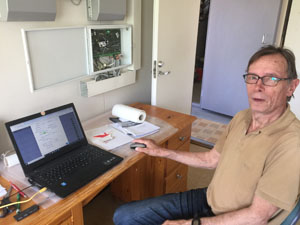 The system is controlled by the customer independently.

Apr 2018: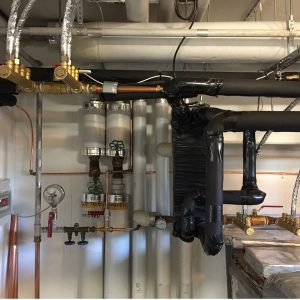 Water boiler 10m3 is insulated, 6 Solixi manifolds installed and pipes from heat exchangers to the building water circulations connected.
Next step is to add pipes from the water tank to heat exchangers, 16 temperature sensors and cables from Solixi pumps and the controller. As Solixi is plug & play, installations are for now on quick and flexible.
In the picture right Matti Relander, the project manager.
Feb 2018: 14 Solixi manifolds has been installed. 6 manifolds to the old oil tank, what was cleaned and is currently Solixi water boiler. The volume is 10m3. The tank was insulated to storage up to 95°C temperatures. The tank was also moved a bit to make more room for Solixi parts. New pics coming soon!
Rest of the manifolds has been installed to the building heat circuits; heating and hot water. To add pipes, pumps and heat exchangers is easy, flexible and fast for now on.
The first Solixi pipes, pumps and heat exchangers have been delivered. The controller will be the same as in Vantaa.
Sep 2017


Old smaller water boilers, pipes and oil burner.
Real estate info
The annual energy expenses are approximately 9000€/electricity.
The main heaters are three 20kW air-water heat pumps, 120kW oil burner and few electric resistors.
18 apartments, 35 occupants in three similar row houses.
May 2017; The Solixi installation plan was officially accepted. In the meeting Jyri Jaakkola and Juha Suni presented Solixi clean energy system along with Matti Relander.

In the picture, right, one of the three 20kW heat pumps. On the roof there is room enough for one or more C46 solar concentrators, below it is the old oil tank and new water boiler 10m3.
The heating system is relatively new and modern. The main designer is Mr. Matti Relander, who has been also responsible of the maintenance and adjustments.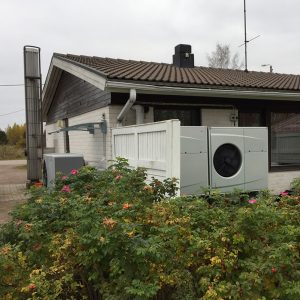 Three 20 kW air-water heat pumps waiting to be connected to the Solixi water boiler and the clean energy system.
Almost half of the year heat is produced by C46 which will be installed on the roof in picture.
One of the main tasks is to automatise the heating, it's maintenance and functions and allow Matti to retire as he is getting aged. Savings and payback time play of course in any investment an important role. Solixi was chosen as the best alternative.
For more info of Solixi's story and history, please click here.