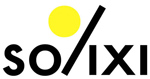 NATURALLY SOLIXI
Solixi provides patented Intelligent Energy solutions including solar concentrators and trackers to large heat storage systems, all of which are controlled with AI-based technology.
Solixi's technology works with all types of buildings including commercial and residential no matter how large or small, it is the solution for smart and clean cities. By orientating solar collectors toward the sun and having automated and accurate control of timing and temperatures, Solixi technology brings significant economic savings and large reductions in carbon emissions. Solixi raises the efficiency of the installed equipment and improves energy security.
PROFITABILITY
Solixi products are plug & play compatible and scalable and can be connected to existing heating and cooling systems. Solixi is profitable as a single product or as a total package.
By effectively harnessing energy Solixi's products are intelligent, safe and powerful. The large capacity and power of heat storage systems are available when needed and off-grid power is possible for weeks and months. Solixi is in the cloud, on rooftop and next to the building. It minimizes heat losses, it reduces the need to buy energy as well as energy transfer and power fees.

ENERGY IS UNDER CONTROL
Solixi's IoT and AI controller controls the solar concentrator, solar tracker and water boiler systems. The controller is capable of orientating the rooftop mirrors or panels as well as optimizes the charging and discharging of Solixi's huge water boilers. The controller is reliable and can stand alone with settings for seasonal modes along with cloud services.


SOLIXI ALLOWS YOU TO STOP BURNING
Oil, coal, gas, district heating and biofuels can be expensive and create harmful pollutants. By using Solixi products cities, companies and consumers will be capable of cutting their carbon-emissions by 100%.

COOLING CAN BE ALMOST FREE
Solixi water boilers are capable of storing large amounts of water and maintaining water temperature through optimized processes. Solixi water boilers store cool water at night during cooler temperatures and hot water during the day to optimize the Suns rays. The water can be stored for 12 hours or longer and utilised when needed for cooling or heating.


NO MORE PEAK PRICES
When too much wind and solar electricity is produced the electricity price collapses. When this happens Solixi can turn on electric resistors, which heat Solixi water boiler up to 125°C at very low costs.
Solixi can store many terawatt hours of heat in the soil for use when there is not enough sun or wind and when the cold weather period hits.


LITTLE OR NO RISK
Solixi products provide a guaranteed savings while creating profits and is based on known and tested technologies such as tank containers, water pumps, heat exhangers, solar mirrors and PV panels. Solixi has had prototypes since 2013 and you can lease products from our trusted eco-system of professionals. Buy Solixi as a service.


WEB CALCULATOR
The Solixi Web Calculator is a tool for partners and dealers to provide an easy way to find the most profitable way to renovate your current energy system and using the optimal sizing and power structures. The smart algorithms can model any buildings energy needs by using the current energy bill, location and local weather and recommend the best Solixi solution.


MARKET LAUNCH
Solixi will be finalizing R&D logistics with Market Launch scheduled for 2022. Solixi products will be manufactured, sold and services provided by Solixi team partners and can be leased or purchased in pre-sales. Solixi encourages companies, cities and organizations to join the eco-system and become licensed members.